The last post about the projects I wanted to finish went pretty well, so I thought I'd hold myself to it again. Here are a few things I'd like to make this week:
1. Baby Watermelon Hat
It's obvious by now that I'm gearing up for a visit to see my niece. When I get there, I'd like to have a couple things to torture her with, like baby shoes and large hats. I will take her picture in them, she will give me an evil look, and then she'll take a bottle and forget all about it.
My mom found this watermelon hat online, but it was sold out. I think it'd be easy to make my own pattern for it:
2. Ruffle Pillow
I'm in love with the
felt ruffle flower pillow
I made a few weeks ago, but I want another one that's softer so I can lay around on it while I'm watching Monk marathons on Netflix Instant. I want to make one like this out of my ginormous red Maker Faire volunteer tee shirt from last fall.
3. It's a Secret... For Now
Linda at
Craftaholics Anonymous
is sponsoring a
handmade gift exchange
! I've already met my lovely exchange partner, Martha from Minnesota, and have something in mind to create for her. I don't wanna spoil it, so you'll just have to wait until after Martha receives the gift.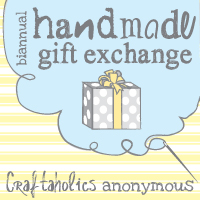 Let me know if you fancy anything above, or what you're working on this week!